Machine learning has been around for quite a while but it's regaining popularity these days. It is basically about data analysis automating analytical model building. ML makes it possible for computers to detect previously unseen conceptions without specific search-focused programming. What is new about it is the ability to automatically implement advanced mathematical calculations to Big Data repeatedly and rapidly.
"Humans can typically create one or two good models a week; machine learning can create thousands of models a week."
Thomas H. Davenport, Analytics thought leader, excerpt from The Wall Street Journal
ML is in fact widely spread and you most certainly come across it many times everyday without even realizing it. Modern Google search algorithms are based heavily on ML, and so are Facebook contextual ads that seem to know what you've been interested in lately -  these are just two of many examples of how we use ML for our daily routine. Most importantly, machine learning is implemented to detect fraud and increase cybersecurity, and perhaps this is why it is crucial in today's world.
In fact, the use of correctly combined algorithms to build models that discover connections will allow companies to make better decisions without any human involvement. And today, the majority of industries that rely on piles of data, have already admitted the value and potential of ML technology.
While being spread in various industries such as healthcare, financial services, government, oil and gas, marketing and sales, transportation, and so on, ML may be implemented in data analytics to help businesses promptly locate clusters of related objects as well as predict results. And even though machine learning can now be considered as a hot skill to have, according to the study by Evans Data Corp. only 36% of software developers working on Big Data projects utilize some elements of ML.
In a combined survey of BusinessOverBroadway and AnalyticsWeek, over 1,000 data specialists were asked about their skills and some demographic information. Particularly, they indicated their proficiency level throughout 25 data skills (machine learning included), their job roles and satisfaction with their results at work on analytics projects. The survey finds that only 30% of software developers are expertly skilled in machine learning which basically confirms the 36% by the Evans Data Corp. study mentioned above.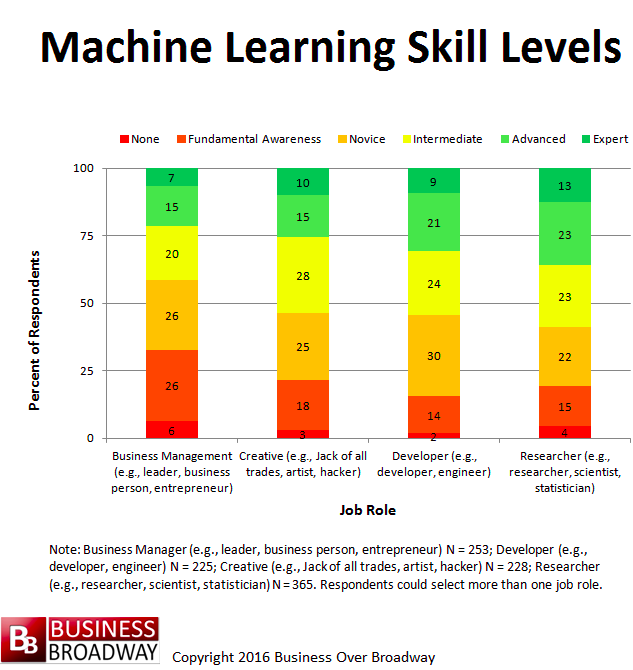 The correlation between ML proficiency and satisfaction with outcome of analytics projects was statistically significant for all 4 job roles examined. Generally speaking, as proficiency in machine learning increased, satisfaction with work outcome increased (see image below):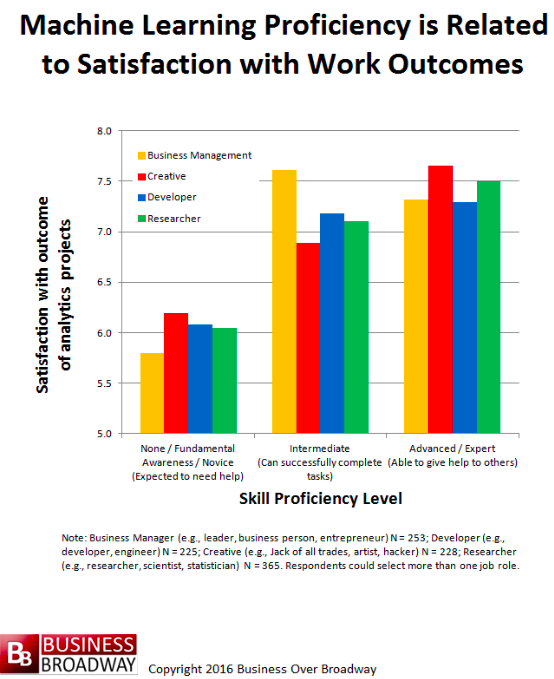 Nonetheless, interest in ML keeps growing in the Big Data world, therefore businesses will soon require to hire specialists with appropriate skills. One of the recent surveys shows that, surprisingly, researchers, not software developers, are the ones with the most profound ML skills. This finding may be attributed to the fact that ML falls in part under Math and Stats domain.
Thus ML talent is the most common among research scientists, mathematicians and statisticians, even though ML talent may also be found among programmers and business analysts.
Also, read how to use machine learning to significantly improve your HR and recruiting processes.
Are you looking to hire machine learning or Big Data talent for your in-house or offshore project fast and with no HR, IT and administrative hassle?
Let's talk now!